Click on the thumbnails to get
the full-size images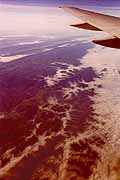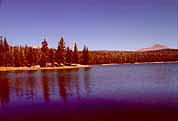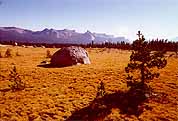 Mickey and I came back late on September 25, 2000 from an absolutely

stunning trip to Yosemite National Park. Everyone else we talked to about going pooped out for one flimsy reason or another. They don't know what they missed, but they will soon when they get a load of some of these beauties! I personally shot 9 color rolls and one of black and white, at least that's about all I found at the bottom of my pack when I emptied it the next morning.

The area we picked was in the Sierra high country, Tuolumne meadows. We chose a 12 and a half mile loop (shorter than we had intended), but wound up doing about 15 or 16 because we lost the trail from the first of the Young Lakes to the last and bushwhacked to the top, somewhere around 10,200-10,400 feet. It was an incredible place, as I hope some of the photos will show; although Mick and I noted when we were there that we may not be able to do this place justice.

In addition to being required to have a wilderness permit, we also had to rent a bear canister because we were camping above 9600 feet. It was probably a good idea because sometime in the middle of the night, I got an unidentified visitor which sniffed around my tent, inches from my head. I saw no tracks (the ground wasn't suitable for good footprints), but something was definitely there - I did not dream it!

On the way from Oakland, we stopped in the town of Groveland to have some drinks (at the White

Oak Tavern) and get some sleep. The motel (can't think of the name) didn't have any rooms left, but something much, much cooler: Teepees! We got into the thing (2 double beds, believe it or not!) and scared out a squirrel. We were so delighted, it was the funkiest thing we'd seen since arriving.

The next morning, we headed out to the park and watched as the number of cars whittled away on the road to our trailhead. Tuolumne is not as popular as Yosemite Valley, thank goodness, but it's plenty popular. Once we had secured our permit and took possession of our bear canister, we got to the trail and hiked up past Lembert Dome and took in the side trail for Dog Lake, after ditching our packs trailside. There was a beautiful view of two peaks on the other side of the lake.

As sunset approached, we came out of the fir and Lodgepole pine forest, around the other side of Ragged Peak, and saw the first of the three Young Lakes. Wow, what a site. There were already a few camps made, and we had some time, so we decided to visit the rest of the lakes and stay up on top, figuring (correctly) there would be fewer people up there. We lost the trail, though, and had to make our way up several hundred more feet of trailless country to get there. It was incredible, more than worth the effort getting up there. We shot rolls and rolls of film as the sun went down and then set up camp on the opposite shore of the other group, more or less out of sight.

While the days were in the 80s or so, once the sun went down, the temperatures dropped precipitously. By the time we had dinner ready, we were already covered in almost all our layers and huddled close to the stove (no campfires allowed above 9600 feet). The stars came out, and under that awesome canopy, we broke out the hip flask and had some whisky until hitting our tents rather early (about 10:30 pm).

I awoke a few times during the night (mainly due to a full bladder - stupid me forgot to go before hitting the hay), but didn't venture out of the tent to relieve myself. I just didn't do anything. It was during one of those awake moments when I heard the crunch around my tent and a sound right next to my head of something sniffing. Perhaps my boots were enough of a deterrent, because I didn't hear anything after that. Believe me when I tell you that it really got my blood going. It could have been a deer or something else, I don't know. I'm not going to say it was a bear because I saw no proof.

The urge to go overwhelmed me once the dawn started to break, so around 6:30 I was up. I shot a

few rolls of the sun rising over the mountains, and clambered around the area taking more pictures. Mickey was up sometime after 8:30 or 9, and as we had breakfast, the sun finally made it over the ridge. It warmed up fast, and the layers peeled off as the sun rose higher into the sky. Mick scrambled up towards the ridgeline and did some of his own shooting. I relaxed in the sun and started packing my stuff. Also, he decided it would be nice to take a dip in the lake, so he dived in. Talk about cold! I regret somewhat not doing it myself, however.

We left around noon or 12:30, found the proper trail to the other Young Lakes and were again awestruck at the views. We commented to each other that even if we have beautiful photos, we still would have to apologize because we didn't do the place justice! We made it back well before sunset Sunday and stayed in Oakland overnight before going to the airport, sadly departing for the real world.