Click on the thumbnails to get the full-size images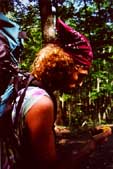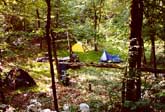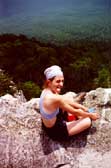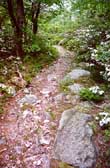 Late Sunday night June 11, 2000, we came out of the hot sticky Virginia/West Virginia woods to reconnect with the "civilized" world of Washington, D.C. Nat, Mickey, Mick's housemate Anthony took a nice little walk to the Big Schloss area, near Woodstock, VA (see map warning! ~530K image!), the upper part of

the George Washington National Forest, Lee District. It was hot and sticky, but a gorgeous set of trails: Little Sluice Mountain, Big Blue and Cedar Creek, with a side trip to White Rock lookout. It's the blooming season for Mountain Laurel (Kalmia latifolia) - there were flowers all over the trail, and deep up the hillsides. Tons of biting insects ate us alive, as would be expected, and we have enough welts to make connect-the-dots. We found water all over, from springs to creeks to a nasty little frog pond near the campsite. This was good, because the heat made us drink a lot. I personally must have had over a gallon of liquid a day, and possibly more.

The single best thing about this hike though, we all agreed, was the fact that though we saw signs of human activity, we only saw 2 people on the entire trail. It was a beautiful walk, and the photos I took will soon be available for you to see. In fact, Mickey and I are going to collaborate on pages devoted to each hike we take, with maps, photos, trail descriptions, and other useful information so you too can either enjoy them online or try them yourself. Look for it in the coming months, as we work on Ramsey's Draft VA, Spruce Knob WV, Big Schloss VA/WV, and all the others we can remember.

click on the small map to see it full-size: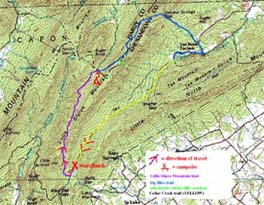 The map of our route, from: Terraserver

We're not completely sure at the moment, but the trails we took are somewhere about 10 miles long total; not sure because even with USGS 7.5 maps and Mickey's GPS, we apparently took a trail or two that were not on the map and shortcut our trip another 7 miles! New technology has solved our puzzle! Mickey bought a GPS that weekend and tried it out. Later in the week, he got mapping software and combined the data from the two to create these two images, one of the route we took (with waypoints marked with an "X"), and the second is a detail of the point at which we left the trail for the unmapped, unmarked shortcut. You can look and compare these with the USGS maps I have put on these pages.



All photos in this site, except where specified, © 2000 (earlier where specified) tjd, all rights reserved.

Written permission must be granted for any use of my personal photographs, please! I am a struggling artist and need all the help I can get!